Liberty University students and College for a Weekend (CFAW) guests heard from the creator and three cast members of popular TV show "The Chosen" how God has used them to spread His story throughout their day at the Liberty campus on Friday. Speaking at both the Friday morning convening at the Vines Center and a special film panel discussion in the afternoon, guests on the hit Christian program gave insight into the process of making the show and how their personal faith has guided them through their work.
Describing the life of Jesus Christ with the perspectives of those who interacted with him, "The Chosen" became a hit in its two seasons and its Christmas special. The show is created, directed, and co-written by filmmaker Dallas Jenkins. It is the first multi-season series about the life of Jesus, the best crowd-funded television series or movie project of all time, and has been viewed by over 400 million people worldwide since its launch. debut in 2017.
After a time of adoration, show creator Dallas Jenkins recalled the last time he stood on the Convocation stage in 2017 while promoting a feature film he directed, a day that he thought at the time would be a pinnacle in his life and career. A young filmmaker with studios interested in his future work, Jenkins thought he was at the start of a Hollywood success story.
"I had done a movie with some of the biggest producers in Hollywood, they wanted to do more movies with me because the movie had tested so well and there was such anticipation, and I had the opportunity to come to Liberty University and talk to 15,000 to 20,000 all in this room at once about the movie," Jenkins said. "I hoped the film would succeed, and at that time it looked like it would. As I stood here on this stage in front of people who look just like you, I was as excited as ever and as optimistic as ever. than ever, and three days later it was one of the worst days of my entire life and certainly my career.
Three days after his visit to Liberty, Jenkins anxiously watched his film's nationwide opening and box office numbers, but within hours he watched the film's screenings and his budding career crumble. .
"The numbers were lower than the lowest projections, it was a total bomb, and in just two hours I went from a director with a very bright future to a director with no future," he said. "All of these production companies that had been so excited and wanted to do several movies with me over the next 10 years pulled out. I went home that afternoon and, along with my wife, Amanda, who is here today, I sat there and cried.
That same night, God spoke to Dallas through his wife and a Facebook friend, both of whom pointed him to the miracle of Jesus feeding 5,000 people with five loaves and two fish. Although it was a well-known story that he had read countless times, Jenkins saw himself in the story as the boy who brought the bread and the fish to Jesus. The boy didn't perform a miracle – Jesus did – and all the boy had to do was bring the tools and let God do the rest.
"At that moment, my life changed, I changed, because at that moment, for the first time in my life… I realized that multiplication depended on (God). I can't put myself in God's shoes. As stupid as it would have been for the boy who provided the five loaves and two fish to come home to his parents and say, "I fed 5,000 people today," that's how stupid he would be. to stand before you today and say, 'I made The Chosen and this is how.' I do not know how ; I just provided the loaves and the fish.
Two of Jenkins' four children, Sam and Maya, are currently Liberty students.
The actor who plays Jesus in 'The Chosen', Jonathan Roumie, was unable to appear in person at Convocation, but he filmed a brief message for those in attendance in which he shared a similar story of abandoning his career to God. Roumie explained that before being cast on the show, he was struggling in his career, which he attributed to leaving God out of his career aspirations.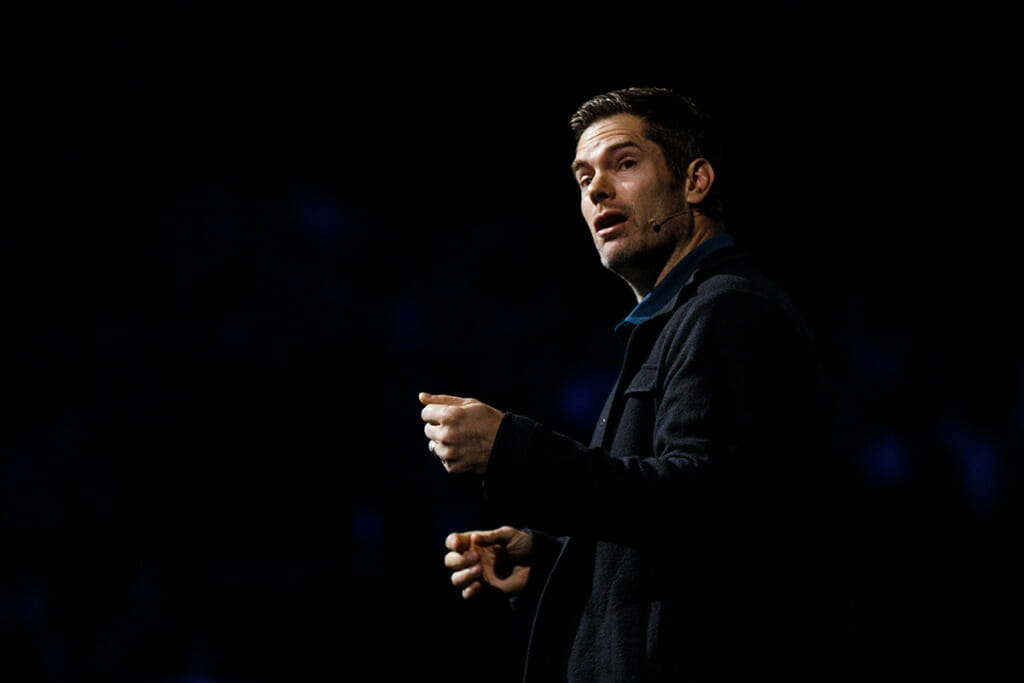 "I didn't quite invite him into my career choices, my career planning, into every part he desperately wanted to be in, until I finally got to this point of utter and utter desperation," Roumie said. "I had to look at everything I had accomplished and unaccomplished at this point in my life, at the tender age of 44, and realize that unless I invite God into my career, no matter what I was doing or how hard I was trying, my career wasn't going to move forward because he didn't want it to happen without him.
"I hope that by sharing a bit of my own life and my own journey to quitting, you can learn the lesson 20 years before I learned it," Roumie told CFAW students and guests. present.
Three months after making this decision, Roumie was contacted by Jenkins about "The Chosen" series.
After the video message ended, campus pastor Jonathan Falwell welcomed Jenkins and three cast members to the stage: Elizabeth Tabish (Mary Magdalene), Noah James (Andrew) and Lara Silva (Eden, wife of Simon Peter).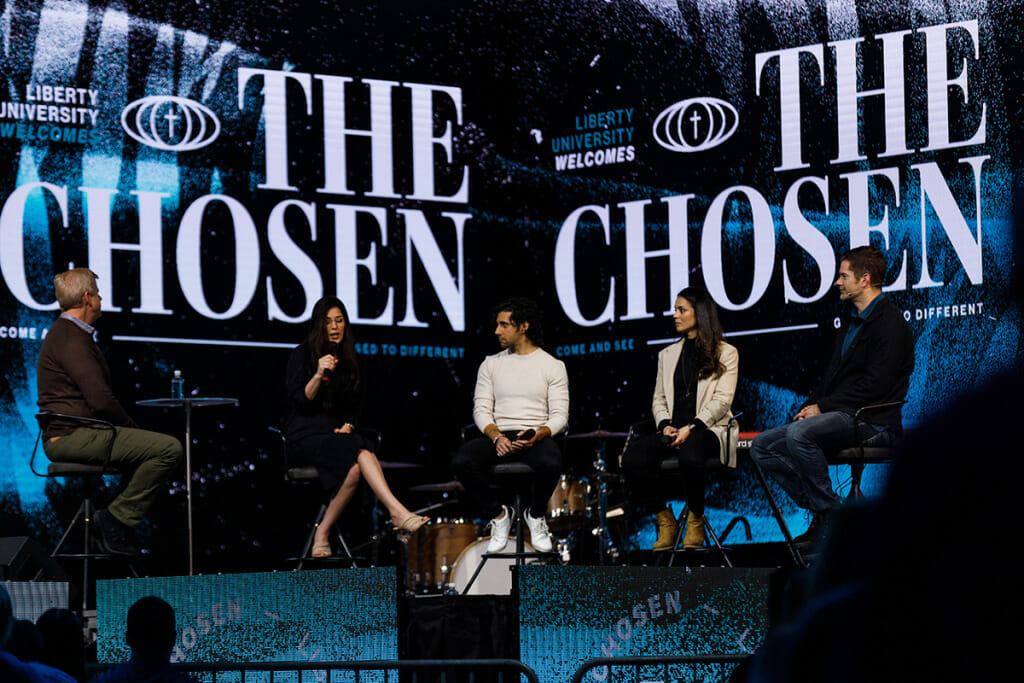 All three shared their individual journeys to being a part of "The Chosen," including the role their faith played in their careers leading up to and while filming the show. As specific snippets from the show played between their responses, the actors spoke briefly about their personal connections to their characters and how their work has inspired them and others to follow Christ.
"This (role) was this opportunity to take a breath of fresh air and see the love and the kindness in life, the hope in life, and start over," Tabish said. "I've experienced that in my life from this show, working with these wonderful people and telling stories of love and hope that Hollywood doesn't always provide."
After graduation, Jenkins and the cast went to the lobby of the Vines Center to meet with students and hand out free sweatshirts.
The guests of "The Chosen" then participated in a panel discussion hosted by the Cinematic Arts, Zaki Gordon Center, during which they delved into industry advice and details of the decisions they made that affected led to the success of the show. How the show went from a story pitch to a widely available and loved show, the importance of communication between the many departments on set, being present with the cast and re-enacting an episode in the theater editing, Liberty film arts students and theater departments learned from special guests how the show came to be.
In conclusion, Jenkins and the cast members answered the students' questions directly.