Amanda Kramer, the Los Angeles underground musician turned filmmaker, debuts at the International Film Festival Rotterdam (IFFR) to great acclaim – her third feature film, please baby please, opens the festival today (Wednesday 25), she is one of the filmmakers in the Focus strand and she will deliver a Big Talk as part of the online series.
"I'm a very stuck-up, pretentious person who always thinks Europeans taste better than Americans," Kramer says. "It's wonderful to be accepted into the festival and to be showcased."
Given Kramer's Europhile stance, it's no surprise that she cast two British actors to lead Please baby please Andrea Riseborough and Harry Melling. the hypercamp, West Side Story-esque production follows a bohemian couple from 1950s Manhattan, who become obsessed with a local gang of greasers, causing the couple to question their own gender and sexual identity. Demi Moore plays the role of their upstairs neighbor.
The feature is Kramer's third after 2018. Paris window and Ladyworld. It filmed in Montana in September and October 2020, financed by an independent financier and produced by Rob Paris, Gul Karakiz and Mike Witherill. Kramer wrote the screenplay alongside Noel David Taylor and CAA represents worldwide sales.
In addition to landing the opening slot of the Dutch festival, which runs online only from January 26 to February 6, Kramer's is offering a second feature, Have pity on me!, also a world premiere, closing the Filmmakers in Focus section on January 29. Bette Midler's daughter, Sophie von Haselberg, plays Sissy St. Claire, a young performer thrilled to have her own special variety show, until the party spirals into madness. Filming took place over just five days in the spring of 2021 at Mack Sennett Studios in Los Angeles. The bulk of funding came from executive producer Rhianon Jones, with Kramer writing and producing. Jacob Agger, Sarah Winshall and Benjamin Shearn are also producing. Alief manages worldwide sales.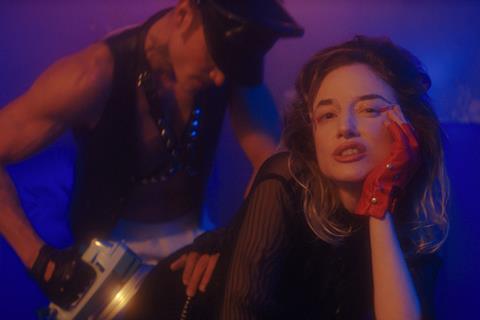 Kramer talks to Screen about the plight of female producers, his maverick approach to casting, and his varied influences, including the work of controversial filmmakers Woody Allen and Roman Polanski.
Where does the premise for please baby please arise from?
It was born out of my obsession with 1950s movies. I'm interested in the hidden Hollywood secret that existed in the mid-twentieth century. A lot of people were hiding things, mainly homosexuality. It also comes from a time in my life when a bunch of my friends were dating in their 40s, looking straight and leaving their husbands, wives, and partners out of nowhere.
I was looking at my own relationship and realizing how weird it was. We were straight, my boyfriend at the time and I, but I really played the male role, and he took on the female role, if you go by gender norms.
How did you make the film?
It was an extremely long trip. I had producers who were there and who were gone and actors who were there and who were gone. This company attracts and magnetizes all types of maniacs, maniacs who do the greatest work on the planet, like [Quentin] Tarantino, to maniacs who are fraudsters and liars, and to maniacs who are perverts and abusers. I've worked with producers who aren't the most honest. Eventually you get to the point where you are terrified of the holistic nature of [the] together. When you have a producer that you don't think will support you in the right way, you have to make a choice and move on. I finally came across the right people.
It's an impressive cast…
I don't audition, I just have good taste. I'm not looking for someone who is good like Steven Spielberg would like, he has to be good for my job – outgoing and able to do something playful. I don't think all actors are comfortable in that space. When I had Andrea, Harry and Karl [Glusman] like my leads, everything fell into place. Andrea and Demi are friends, and when I mentioned Demi was someone we're considering, Andrea was kind enough to call her and say a good word. Harry is a muse to me – I would have cast him in any movie forever.
Both please baby please and Have pity on me! could easily work as plays. Was it a conscious decision?
I went to school [Emerson College, Boston] become a playwright and director. I came back to LA and started writing young adult novels and plays, but LA theater isn't very vibrant. I thought the film industry was too big and I couldn't make my way through it. At the time, I was running underground record labels and making house music. I was just a weird artist. But it worked [the career move], kind of. I do not do Eternals, but I do my own work, next to Hollywood.
Are you interested in moving to a larger public space?
Like all radical generations in their youth, you get older and you realize you can't pay your rent with a cool factor. I am a control freak and a Virgo. If I was hired to be just the camera monkey who was in front of everything but had no potential for choice, I would be deeply unhappy. If you can still be in control and work within the system, I wouldn't turn it down.
You've said in the past that Woody Allen and Roman Polanski were your artistic inspirations…
These aren't my sexual inspirations, but that's beside the point. I think they are brilliant artists and hold within them some of the most evocative ideas of the 20th century in our art form, so of course I'm sticking with that. [Rainer Werner] Fassbinder, David Lynch, Julien Temple – these are filmmakers that I revere and adore too. If tomorrow it turns out that they murdered 37 children, I would still love their films. I have my friends and I have my artistic heroes. I don't think I need to be precious to people who aren't my friends.
What else inspires you?
On top of Covid, instead of watching tiger king Like everyone else, I was consuming TV specials from the 1970s and 80s in a daze. I was obsessed with them. This is where the idea of Have pity on me! came from. I'm not nostalgic – I wanted to do something demonic and insane.
What do you do next?
I'm working on another movie with Andrea [Riseborough] about a Holocaust survivor in the '70s who becomes radicalized through group therapy and environmental terrorism – it's a weird, screwed up thriller.